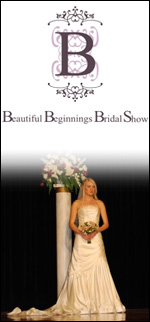 Plan to attend the area's most intimate and elegant Bridal Show on Sunday March 27th, 2011 at the Brockville Memorial Civic Center!
The Beautiful Beginnings Bridal Show was founded in 2006. A group of local vendors wanted to provide brides, grooms, and exhitors a one stop shop for planning their wedding. The BBBS exhibitors provide brides with a diverse selection of products and services to choose from. This show provides brides the opportunity to immediately comparison shop, and book services they require at the show. The show format and exhibitor layout is carefully arranged to provide exhibitors with the optimal environment to demonstrate their products and interact with brides in a personalized and relaxing manner.
This creative and exciting approach, positions the Beautiful Beginnings Bridal Show, as the premier bridal show event on the Bridal Industry's 2011-2012 calendar. Its the show that both brides and exhibitors, can't afford to miss.
For more information visit www.brockvillebridalshow.com
Posted in
Bridal Show
,
Brockville Wedding Events
,
Wedding Show
Tags:
Beautiful Beginnings Bridal Show
,
Bridal Show
,
Brockville Wedding Show